FP insight provides a personalized space to find, save, and share resources that are significant, relevant, and timely for your work.
There are 3 main feeds where you can find FP/RH posts and collections:
For You: Your "For You" feed is where you'll find posts and collections we think will be relevant and timely for you, based on your interests. The more complete your profile is and the more you interact with FP insight by saving and sharing resources, the more relevant your "For You" feed will be.
Trending: The "Trending" feed is where you'll find the most popular posts and collections that have been shared and saved across the entire FP insight platform.
Following: Your "Following" feed is where you'll find the latest posts and collections being saved and liked by the people you follow. This is also where you'll find new posts that are being added to collections that you're following.
Pro-tip: If you see a post that you like in your newsfeed and want to find more great resources just like it, be sure to click on the "View Collections" button at the bottom of the post card. This will take you to the landing page where the collection is housed, so you can find more resources shared by this same user.


*NEW*
Want to search through the entire library of collections that have been created by FP insight users? Your wish has been granted with the new, filterable "Browse All Collections" landing page! Scroll through the hundreds of collections on FP insight, with the most recently updated collections showing up at the top of the list, so that you can stay current on what's "hot" in the FP/RH space.

You can also search for posts, collections, and people by typing in keywords in the Search bar and using the Categories bar on the left to narrow your search criteria. The FP insight search engine is here to help you explore all of the great resources available on FP insight.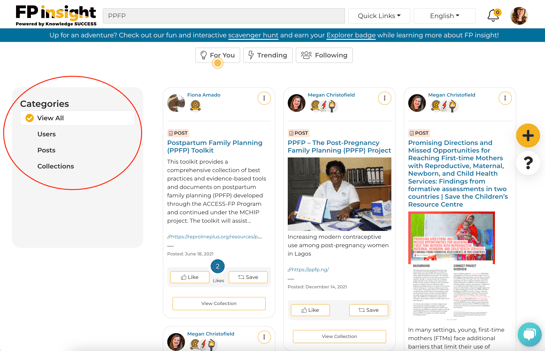 *COMING SOON: Looking for a specific resource? Refine your search even further by using "quotations" around the phrase you would like to search. Enclosing a phrase in quotation marks will return results with the words you searched, exactly how you typed them in order.