Collaborative Collections are a great way for FP insight users to share ideas with each other and with the broader FP insight community.
Do you have a shared interest with a peer or colleague and want to curate a collection together? If they're not already on FP insight, ask them to create an account. Then follow these easy steps to start curating a collection together:
Log into your FP insight account, if you aren't already logged in.
Click on your profile icon in the top right.
Go to the block in your profile called "My Collections." You can either invite someone to collaborate on one of your existing collections or create a new collection to collaborate on.

If you want to invite someone to one of your existing collections, click on the title of that collection. Then click on the "Edit Collection" button (with the pencil icon) to edit the collection.

On the Add/Edit Collection form, in the "Collaborators" field: (1) type the email or name of the FP insight user you'd like to collaborate with (first and/or family name) and (2) click on Search. Then (3) click on Invite User to add that person to the collection. There is no limit to the number of people you can add. Remember to (4) click on Save Collection to save your changes.

If you want to start a new collection, from the "My Collections" block in your profile, click on the yellow Add a Collection button. Then follow the same instructions for the Add/Edit Collection form in the bullet above.
You'll know a collaborator has been added successfully if you see their profile icon appear below yours on the Collection page. Your collaborators will receive an email letting them know they've been invited with a link to the collection. They'll be able to access the collection from their profile too.
*NEW IN 2022*
Want to invite a colleague who is not on FP insight to collaborate on a collection with you? Now you can!

Simply add your colleagues' email under the "Collaborators" tab when editing your collection, and with one quick click, they will receive an invite to join FP insight and join your collection. Learn how to invite a collaborator with the instructions below:
To add a collaborator to your FP insight collection, navigate to the "Edit Collection" button (learn how here), and once on the Edit screen, search for your colleague's name or email and select the yellow "Search" button. If a colleague doesn't show up (because they're not yet on FP insight), a new yellow "Invite" button will appear, asking if you would like to invite them to FP insight.
Once you select the Invite button, a pop-up will appear where you can enter your colleagues' email, as well as an optional personalized message that tells them why you are inviting them to collaborate with you on FP insight.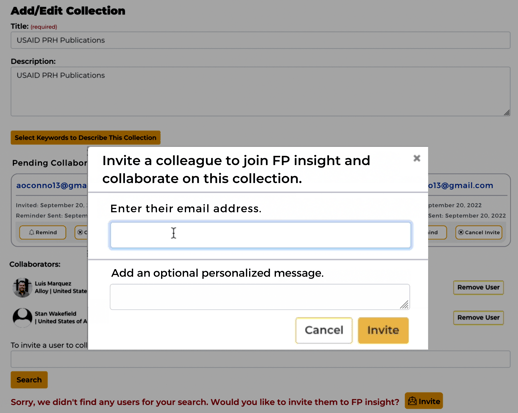 Once you hit "Invite" on the pop-up, this message will automatically trigger an email to your colleague, inviting them to collaborate on your collection and highlighting step-by-step instructions for how to join FP insight! If they complete the sign-up process, they will then be given the option to join your collection.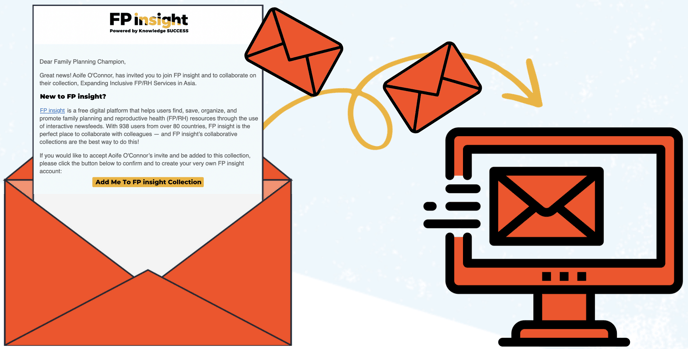 Pending collaborators will be displayed on your "Edit Collection" page until they accept your invite. If you haven't heard back from your colleague after a few days have passed, you can request that FP insight send them an optional reminder email, in order to provide a helpful nudge.
Once your colleague has signed-up and accepted your request — let the collaboration begin!